Michael Giles
About me
Setting a standard and accepting only the best possible results, achieved through integrity and high quality professional service, has seen Michael Giles build an enviable reputation amongst home sellers in the Sutherland Shire.
Starting out with a simple philosophy that there are always customers looking for the best possible service and professional advice, Michael Giles has gone on to become an awarded performer within the Real Estate industry. Hard work and extraordinary results have seen Michael recording more than $50 million worth of property sales over the past two years.
Holding a genuine belief that to be successful you must set out to fulfil and where possible, exceed your client's expectations, has paid real dividends. Michael's proven track record over the past twenty years are outstanding, with hundreds and hundreds of satisfied home sellers already having benefited from his commitment to service.
Having grown up in both Sylvania & Cronulla, Michael is currently living in Oyster Bay and is fully aware of the lifestyle benefits that the area has to offer. His enthusiasm, along with a genuine belief in the tremendous advantages offered to those who are fortunate enough to live in the Sutherland Shire, are key factors in his ability to successfully market properties within the local area.
A Licensed Real Estate Agent and Auctioneer, with twenty years experience, Michael has carried out extensive industry training at all levels. He also strongly believes in an ongoing approach to professional development, which enables him to remain at the forefront of advances within the property industry.
By offering a friendly and relaxed approach, with the highest levels of integrity and professionalism, Michael has ensured that many clients become customers for life. Both buyers and sellers are repeatedly coming back to him, to carry out further real estate transactions and to seek the best available property advice.
Michael Giles can be contacted directly on 0407 304 056
Auction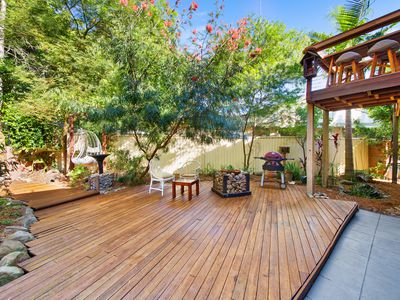 Auction
Auction
Auction
Bedrooms

5

Bathrooms

3

Land size

675 Square metres
Such a fabulous result for us
Just a quick letter of gratitude for the wonderful job you did of selling our property at Sylvania. We were very pleased to work with you to achieve a sale price which met all our expectations. We would like to commend you on your professional approach to the sale. We found your manner with potential buyers both professional and warm. Your ability to highlight the positive aspects of our home and help the interested parties to visualise themselves in our home was superb. Although our home was on the market for a reasonable length of time prior to sale, it was sold very quickly once you took over management of the property. I believe your natural skill and professionalism contributed to this and your revised marketing campaign was excellent. Once again thankyou for keeping us involved through the entire process and for achieving such a fabulous result for us. It was an absolute pleasure to work with you.
- Tom & Toni
Sylvania
Michael was fantastic throughout the entire process
My parents had been in their home in Sylvania for 61 years, having bought the land prior to their wedding and then built the original house, and extended it as the family grew over the years. So the decision to move to a retirement village was a hard one for them. It also happened quite quickly due to their changing health needs so we all needed to work quickly to make sure that the house sale went through in the right time frame.
Michael was fantastic throughout the entire process - right from the start he was sensitive to their needs. They had never moved house or sold a property and so all of this process was new to them. At their age too it was all quite confusing, and Michael treated them with respect and kindness and this them feel so much more comfortable with the process.
In addition to the care he showed them, he was very good at professionally handling the communication with the rest of the family across the sales period.
The whole process was handled efficiently and we were able to achieve an excellent price in a soft market within 3 weeks of placing the house on the market. Michael worked closely with all prospective buyers, and we were able to finalise the sale without the added stress of an auction which we all felt would have been hard for my parents to handle.
I would highly recommend Michael to anyone wanting to sell their property. He was honest and straight with us at all times. He communicated clearly with everyone and made sure that we were all kept up to date with every part of the process. I also felt he acted with integrity with everyone, which is hard to find these days. His fees were very competitive, and this was also important to us so that my parents were able to cover all the costs of the move.
Thank you Michael for helping us all get through a tricky process. Mum and Dad are happy in their new home and this has only been possible due to the work you have done to make sure they got the best possible price and sales terms which brought everything together so well.
- Louise
Sylvania
Professional & enthusiastic approach
Just a quick note to thankyou for all your help with the sale of our home at Sylvania. Your professional & enthusiastic approach and feedback whilst you were helping us with the sale of our home made our decisions very simple. We are very happy in our new home and are glad that we made the move. It was a pleasure to deal with both you and your office. We will definitely be recommending you to anybody we know who wants to sell their home.
- Ray & Madeleine
Sylvania
Executed the plan as promised with minimal stress
We just wanted to say how much we appreciated your help in the sale of our property. Friendly, professional and easy to deal with you put plan into place for the sale of our property and executed the plan as promised with minimal stress on us during that time. Your advice regarding purchasing a new property has also been greatly appreciated. We will have no hesitation in recommending your services to anyone who is considering selling their home.
- Shelley & Graeme
Total trust in your advice
Nellon and I would like to take this opportunity to thankyou for your help in the sale of our home at Birdwood Street Sylvania. It is a pleasure to have you as our agent. Your professional advice, marketing approach, timely communication and especially your dedication and honesty has made the process of selling a unique villa home less stressful. We felt comfortable in placing our total trust in your advice every step of the way. You have helped us achieve a very good result in the end. Once again thankyou very much Michael, there is no doubt you will be the first person to contact in our future real estate dealings and we have no hesitation in recommending you and your agency to our family and friends should the circumstance arise.
- Maggie
Sylvania